Introduzione
How it works
Supported apps
Specification
More info
Lumina Response Pad for fMRI

The Lumina LP-400 is a reliable patient response system designed specifically for use in an fMRI. Lumina was developed to satisfy the requirements of both the clinical and research fields. The system consists of the following main components:
A controller (shown on the right) provides TTL and serial port output that is compatible with E-Prime, Presentation, SuperLab, Cambridge Research Systems, and other packages. The controller provides a scanner trigger input as well.
One of the response pads, or button response unit (BRU) pictured below. All models are built from 100% fiber optics and plastic, and come with 16 feet of fiber optic cables.
Two 65 foot shielded cables
See the How it Works section for more details.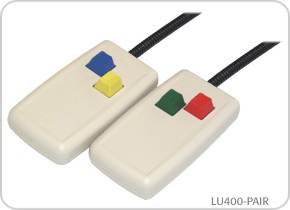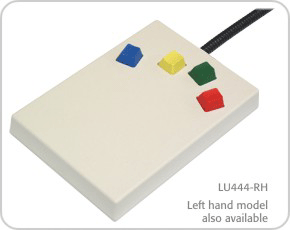 Quality Construction
From the Swiss-made shielded connectors to the lowliest electronic part, the Lumina system spells quality through and through. No expense was spared during the three year development period to make these pads the best that's out there.
Lumina comes with a 1 year "bumper to bumper" warranty which covers all parts and labor. An optional Premium Warranty is available that includes immediate replacement and 3 years extended coverage.
See the How It Works page for information on how the Lumina system is typically installed and used.
How it works

The most frequently asked question is how a Lumina system is installed. The following diagram gives an overview


: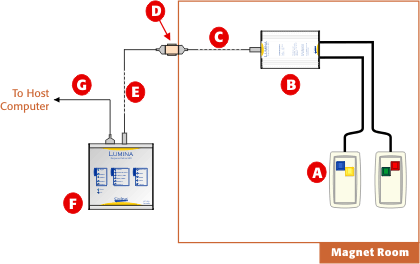 A Response Pads: These are built of 100% plastic and fiber optics. They are totally inert and safe.
B OTEC Unit: Converts electricity to light and is connected to the pads via protected fiber optic cables.
C Shielded Cable: Connects the OTEC unit to the penetration panel. Uses wires and connectors of the highest quality.
D RF Filter: Optionally installed if the penetration panel does not have a built-in filter.
E Shielded Cable: Connects the penetration panel to the controller.
F Controller: Detects key presses, times them, performs TTL I/O, and connects to the host computer. See Controller Features for all the features built into this versatile device.
G Serial Cable: Connects the controller to the host computer.
There are two other optional connections not shown on the diagram:
Scanner Trigger Input: The Lumina controller can detect the scanner triggers and pass them through to the serial port.
Accessory Connector: Provides a highly configurable TTL input/output link.
See Specifications for detailed information about the different components.
Lumina Supported Applications


The Lumina LP-400 is supported by a number of application programs. In fact, no other response pad system -- for MRI use or otherwise -- is supported by as many applications. These include (in alphabetical order):

C++ and Python

Cedrus has developed and makes available open source libraries for C++ and Python developers.

E-Prime

Published by PST, Inc. Lumina achieves compatibility with E-Prime by emulating PST's SRB Model 200 response pad.

EyeLink Experiment Builder

Published by SR Research. Experiment Builder has built-in support for the Lumina response pads and takes full advantage of Lumina's built-in timers.

Inquisit

Published by Millisecond Software. Version 1.32 or later supports Lumina's "RB Series" mode.

MEDx

Published by Sensor Systems, Inc.

Presentation

Published by Neurobehavioral Systems, Inc.

SuperLab

Published by Cedrus Corporation. Version 4 takes advantage of the advanced features such as built-in reaction time timing.

VSG

Published by Cambridge Research Systems.



Lumina does most of the work to ensure compatibility with these application programs. None of them requires that additional software drivers be installed.

We can also configure Lumina to suit your particular application. OEM inquiries are welcome.
Lumina Specifications
The Lumina LP-400 system has several components (see How It Works). Here is a list of all the components that come with the system along with detailed information about the individual components.

Response Pads

The Lumina LP-400 system includes two fiber optic response pads, each with two colored push buttons.
They are:

Built of 100% plastic and fiber optic parts
Magnetically and RF inert
Water resistant
Delivered with right hand and left hand versions
Safe -- no laser lights are used

The pads come permanently connected to a unit called the OTEC (see below) via a 5 m (15 ft.) fiber optic cable. This cable is protected by a sturdy crush resistant cover. The dimensions of the pads are as follows:

Side A: 7 cm (2.75)

Side B: 2.4 cm (0.94")

Side C: 12.55 cm (4.94")



More info

Per ulteriori informazioni si raccomanda la consultazione del sito della Cedrus