Introduzione
Specification
Born to Mark
StimTracker was created with mainly one purpose: sending event markers. And making it trivially easy to do so. So easy, in fact, that StimTracker is born ready to connect to a variety of EEG/ERP recording devices (see sidebar) and a PC's parallel port. You no longer need to worry about incompatible connectors, pin assignments, and custom cables -- it's done for you.
Mark Anything
It is common to send event markers from the stimulus presentation computer to a recording device. StimTracker provides a USB port for this purpose, but it can also handle a complete range of events:
Up to four photosensors
Voice key
Two audio channels
Six TTL inputs
The amount of information available to you depends only on how many input lines your equipment can handle.
Ship date:February 29, 2009.
An Eye For Stimuli
Unable to find a photosensor that is unobtrusive, easy to mount, and fast, we set out to build our own. After the initial vetting, we put six electronic photosensors through a rigorous selection process. Then we designed a tiny plastic housing (just 8 by 14 mm) and built the necessary mold. The result? Just peel and attach to the screen.
To make the Cedrus Photosensor even less distracting to participants, we offer it in black and in white, the two background colors most commonly used in experiments.
Well Connected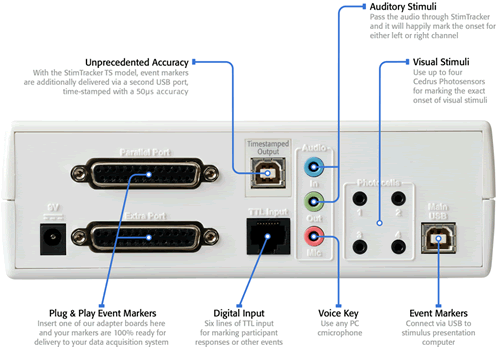 StimTracker
What's Included
A StimTracker order ships with the following:
StimTracker unit
One white Cedrus Photosensor
One black Cedrus Photosensor
A universal AC adapter (100-240V)
A USB cable
An audio cable
5 extra double-sided adhesives for the Cedrus Photosensors
Any PC-compatible microphone may be used with the Mic connector.
Dimensions
| | | |
| --- | --- | --- |
| Width: | | 17.8 cm (7 in) |
| Height: | | 5.6 cm (2.2 in) |
| Depth: | | 13.4 cm (5.25 in) |
| Weight: | | 0.52 kg (1.1 lb) |
External Input Latencies
For best performance, none of the external input sources are routed via the microprocessor. The delays between input and output are:
Photosensors:

Less than 0.01 milliseconds
(This is the latency due to StimTracker and does not include the photosensor's response time)

Voice Key:

Less than 0.05 milliseconds after voice level rises above threshold

Audio:

Less than 0.05 milliseconds after voice level rises above threshold

Digital Input:

Less than 0.01 milliseconds
USB Port Latency
The latency for sending an event marker depends on the baud rate selected through the driver. At the recommended 115,000 baud rate, the three byte command needed for sending an event marker takes 0.36 milliseconds to transfer.
Once received, StimTracker processes the command and produces the output in less than 0.1 milliseconds.
There may be additional latencies introduced by the host computer, operation system, application, or a combination of the above, over which StimTracker has no control.
Cedrus Lightsensor
The Cedrus Lightsensor is available in two colors: black and white. Notches are molded in on three sides to allow for easy positioning on the screen.
Characteristics
The Cedrus Lightsensor has the following characteristics:
Response Time:
(dark to light)

0.05 milliseconds

Release Time:
(light to dark)

4 milliseconds

Spectral Sensitivity:

360-970 nm (visible light)
The response and release times are dependent on the amount of light.
Dimensions
The Cedrus Lightsensor is small, measuring a mere 8 mm (W) by 20 mm (L) including the wire's strain relief. Without the strain relief, it measures only 8 by 14 mm.